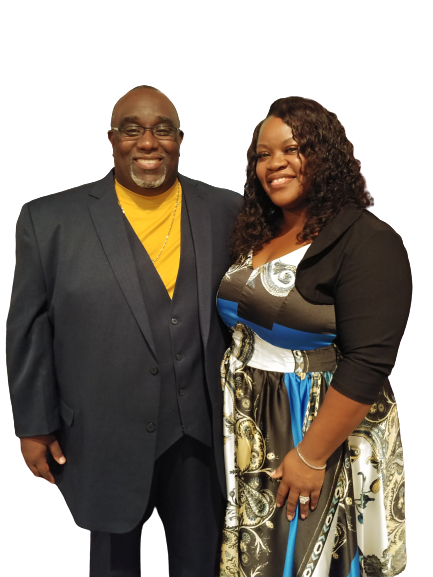 Pastor Robert A. Brown and Lady Monique
A dynamic minister, compassionate pastor, prolific speaker, intimate worshipper; has actively been involved in the Ministry of Christ for more than 20 years.  Unlike many teenagers during this time, Pastor Robert A. Brown received salvation at a very young age and God immediately put this young man to work for the Kingdom.  He began teaching bible study at Jean Ribault High School in Jacksonville, Florida and as God began to mature Pastor Brown as a Christian, he developed a strong passion for the ministry of music and began playing the drums as well as the keyboards for the local ministry he was attending.  While faithfully serving, God revealed his call into the ministry of Christ in the area of preaching the Gospel.  Moving with no reservation and in full obedience, Pastor Brown essentially accepted his calling as a Pastor.  After serving for seven years as an Assistant Pastor, he continued to seek the face of God and ultimately founded Builders of The Faith Christian Center on February 10, 2002. He has since changed the name to Builders of The Faith Community Church
Builders of The Faith Community Church is a ministry that is touching the lives of many locally and throughout the United States. With roots heavily grounded in studying the Word of God, cultivating a relationship with God and a heart of Evangelism, Builders of The Faith Christian Center has no cultural, religious, economical or conditional boundaries.
God has given Pastor Brown a true Word for the lives of the people he leads and comes in continual contact with. The anointing that is upon his life has opened many doors for him to minister at some of the most influential ministries around the United States. Submitted under the covering of Bishop Vaughn and Lady Narlene McLaughlin of The Potter's House International Ministries in Jacksonville, Florida; Pastor Brown has the authority and is fully equipped to fulfill the commission that God has given him for Builders of The Faith and the world.
Pastor Brown is married to Lady Monique Brown and they have four wonderful children.